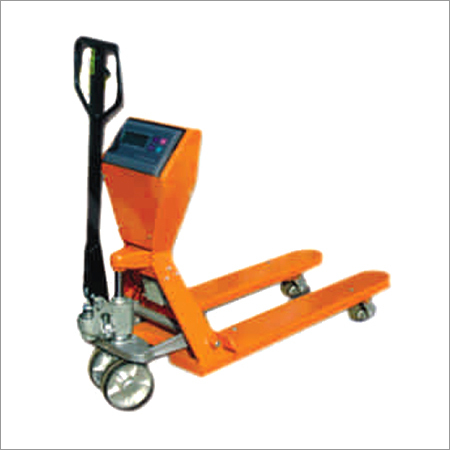 Weight Pallet Scale Truck
Product Code : SRE 103
Product Description
The Weight Pallet Scale Truck are also known as pallet pumps, or forklift scales. They are used to lift, weigh and move the pallets simultaneously. These trucks are robust and has digital weighing scale. The pallet truck enables pallets to be measured as they are even loaded or moved to insure the practicability of distribution lorries. The Weight Pallet Scale Truck are used for boosting the speed of manufacturing, distribution and packaging processes. They are ideal for weighing machines in laboring factory environments where space is negligible.
Key Points:
They are designed to last for longer time.
They have quick as well as economical solutions to regulate pallet weights.
Capable to estimate incoming as well as outbound shipments in the warehouse.
They avoid overloading of pallet racks, obviate deflection grounded by the load.

Specification :


| | | | |
| --- | --- | --- | --- |
| Model No. | | SRE 103 | |
| Capacity | tons | 2 / 2.5 | 2/2.5 |
| Min. Fork Height | mm | 90 | 90 |
| Max. Fork Height | mm | 200 | 200 |
| Steering Wheel | mm | 180 x 50 | 180 x 50 /M.S./PU/UHMW |
| Load Roller Tandem | mm | 82 x 70 | 82 x 70/CI/MS/PU/UHMW |
| Overall Fork Width | mm | 550 | 685 |
| Fork Length | mm | 1150 | 1220 |
| BATTERY | V | DC 1.5VX4 | DC 1.5VX4 |
| Self Weight | kg | 75-125 | 85-135 |